Why the digital transformation roadmap has changed for Utilities
Blog
18 May 2021
Why the digital transformation roadmap has changed for Utilities
Moving forward, what's needed for utility companies to realize the opportunities?
The extreme energy industry disruption over the past year has covered regulatory demands to fast-track digital transformation projects, improve customer services and meet consumers' demands for more digital engagement and new digital technologies. While the general move to cloud-based technology enables these projects to be accomplished faster, it also brings with it the need for more robust security of service, operations, supply and data and those that use them.
Today, the focus is on three technology trends in the utility industry:
Customer Experience: The increase in customers choosing online or self-service channels has resulted in those in the utility and energy sector rethinking their digital strategy. Utility companies are seeking more efficient ways to enable customers to submit meter readings, pay bills, get updates on power cuts, change tariffs or just ask for support on any channel. There's also a desire to make these channels work together to support customer preferences by taking an omnichannel approach to customer service that sees digital channels sitting alongside human contact to ensure that no customer is disadvantaged and customer churn is reduced.
Cloud solutions: Increasingly, companies in the utilities sector are adopting a mix of on-premise, home-based and mobile staff. Moving systems and solutions to the cloud means you can scale and adapt at speed, increase agility, streamline operations and reduce costs. It can also help improve communication with clients and field workers.
Information and cyber security: With greater digitalization comes added risk - of fraud or data breaches. Protecting customer personal and payment data, authenticating customer identities and enabling secure payments through any channel are vital to maintaining compliance with GDPR, PCI DSS, industry regulations and building customer trust.
Digital transformation in these areas will strengthen and deepen digital relationships with customers to provide greater resiliency to market, industry and global pressures.
So, let's look at how utilities are adopting new business models for operational resilience, richer customer experiences, improving payment data security and providing the ultimate customer service.
Being prepared for the worst
By the end of 2026, it's estimated that 30% of Tier 1 utilities will reposition their IT from 'built to last' to 'built for change.[1] Building resiliency into utility company operations is already becoming a regulatory mandate and providing the much-needed push forwards rather than just 'bouncing back' to what was done before the pandemic. Replacing old ways of working and embracing digital transformation technologies create effective new ways to reach and connect to markets, employees and customers, anywhere, at any time.
The right degree of digitalization in critical customer and workforce engagement functions will mean energy companies can maintain full customer service in almost any situation. It also means they can work effectively with a mix of home, mobile and office-based staff, and ensure security and compliance are maintained.
"Over the longer term, power and utility companies that most effectively build on the momentum of these forced transformations will succeed" - according to PwC[1]
Delivering customer service more efficiently
Utility Week recently reported a surge in customer contact from utility customers during the pandemic. Companies that had a range of contact channels in place were able to reduce pressure on their contact center by prioritizing phone contact for those most in need. Other customers were encouraged to use digital and self-service channels such as IVRs, messaging, apps, chatbots and social media - including the use of Artificial Intelligence and Machine Learning.
For many customers who wanted to save time, self-service has now become their preferred channel2. For others who were having trouble paying bills, self-service channels provided a reassuringly anonymous way for them to find help and advice or make payments.
Sometimes, however, customers just need to speak to a person. For utility companies, customers have tended to turn to human contact when there's a power outage if they are vulnerable when they are concerned about managing increased fuel use — or worried about their ability to pay. These issues are deeply personal and require specific responses2. At these times, channels like phone, chat, email or text can offer a lifeline - and so human contact must remain part of a good customer experience for utilities.
Maintaining payment data security and compliance
Remote working is here to stay, most likely as part of a hybrid working model. It's expected that by the end of 2022, more than 20% of utilities will have permanently changed most employees' primary work locations, using a mix of home, field and office,[3] addressing the issue of continued security and compliance, regardless of where staff work, becomes more important.
Short-term fixes to plug security gaps may have been the initial response to the pandemic lockdown, but today, utility industry trends show companies are looking seriously at long-term sustainable measures to protect data as a large proportion of their workforce stays at home. As a result, utilities are now moving away from on-premise contact center technology - doing away with hardware and static phone systems - and moving their systems to the cloud. Not only is this cheaper to run, but it's more agile and flexible to accommodate the new hybrid way of working.
A word of warning, however, before going all-in to the cloud, contact centers should gauge the maturity of their customer service operations and factor in employee preferences. They should also check their data compliance responsibilities before assuming their cloud provider will cover them. Cloud providers may claim their systems are PCI DSS and GDPR data security compliant, but it's ultimately down to how your cloud instances are configured as to whether it will block sensitive data from entering your organization. A simple change in an IVR payment flow for instance, could allow payment data to start flooding into your organization if access controls and permissions are not set up correctly. And if breached, your organization is 100% liable.
Providing a richer customer experience
Customer trust in utility suppliers is running high currently1 but they still expect more from their provider than just the supply at a fair price. So, there is an opportunity to deepen your relationships in ways that will win approval from customers and increase customer satisfaction.
Changes in customer behavior are continuous but the enforced changes of the last year, such as greater engagement via digital channels, are here to stay.
Ultimately the customer wants to get information, submit meter readings, pay bills, buy products or services update accounts or have more detailed discussions. Energy companies that use digital innovation to let customers take charge of their account, fulfilling their goals in their channels of choice and switching seamlessly from one channel to another, will be the ones who succeed.
Seizing the moment with digital technologies
The move to greater digital engagement, through cloud-based technology, will allow the utilities industry to become more resilient and take their businesses to the next level. Increasingly, skilled customer service staff based anywhere will work alongside digital channels to create a connected and seamless engagement for customers and bring greater agility to any business.
Leading utility companies have found the answers they need with Eckoh's cloud-enabled secure payment and customer engagement solutions. Our agent-assisted and IVR payment solutions plug straight into your cloud contact center environment to give you the reassurance that sensitive payment data is secure and cannot enter your organization.
If you're looking for ways to improve your digital strategies and tackle digital transformation in utilities' customer service, resiliency and security then let's talk. Eckoh can help you transform customer connections, implement robust payment data security measures and drive down business costs.
---
Sources:
1. PwC COVID-19 Industry focus - where next for power and utilities?
2. Utility Week - No going back: the pandemic year that shook up utility customer services
3. Gartner - Top 10 trends driving the utility industry in 2021
Secure your Call Recordings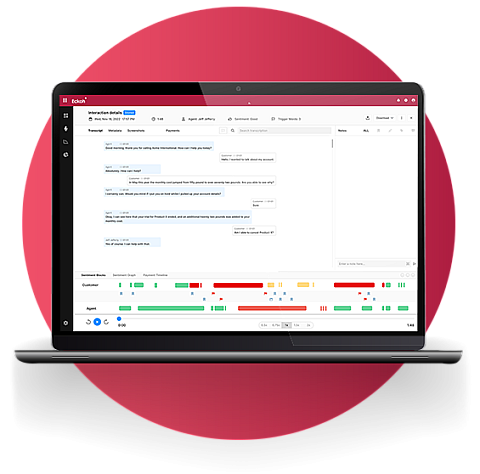 Get in Touch
Contact us today, our security experts can help your organization navigate PCI DSS v4.0.